I recently had someone tell me that they had decided to invest in a hair straightener upon which I replied, "That's great, they're very versatile tools. What kind have you decided on?" My friend went on to tell me that she had decided to go with a brand that is being advertised on television lately and is available at Wal-Mart. She didn't see any point spending more money than she had to if she could get a good hair straightener at Wal-Mart.
As I explained to my friend, there are a few things wrong with this theory. The first thing is, you should not base your decision on buying a hair straightener completely on money. If price is an important consideration, which it probably is, there are a number of high quality hair irons for affordable prices. However, you cannot put a price tag on the health of your hair. If you save money on the hair tool but then proceed to damage your hair, you are definitely not doing yourself any favors. Not only will you need to spend more money on treatments to restore the health of your hair, but you have just bought a hair tool that does more damage than good, and that is like throwing money in the garbage.
Instead of throwing your money away, take a good look at professional hair straighteners and make the right decision the first time. "But I'm only using it at home; I don't need a professional quality hair straightener." My friend insisted to which I asked her. "Isn't your hair just as valuable as anyone who comes in to have their hair styled professionally?" Of course the answer is yes. Why shouldn't you have a professional hair iron? Your hair deserves the best, and the only way to achieve straight hair without damaging it, is to use a professional hair straightener.
Once I had my friend convinced that she deserved a professional grade hair iron, she was confused about what type to buy. There are a few major things that you need to look for in a hair iron. The first is the plate type. Ceramic plates are known in the industry as the best plate choice. This is because ceramic is an excellent conductor of heat and will heat the plates up quickly without any hot spots to burn your hair. Also, ceramic plates infuse your hair with moisture to lock in shine. Titanium is also a good plate choice as it is very smooth and lightweight; also if you tend to be clumsy, you don't have to worry about breaking these plates.
You should also look for a hair straighter with tourmaline which emits negative ions that infuse each hair, locking in the natural moisture and natural oils of the hair and seals the cuticle so that hair lays flat against the scalp. Your hair will look and feel better than ever with tourmaline.
Other features on a hair straightener are nice too, such as nano silver technology which kills germs and bacteria on the hair, leaving your hair healthy. As well as things like an adjustable setting, swivel cord and automatic shut off.
When you are ready to purchase a hair straightener, make the investment in a quality iron from the very beginning and save yourself a lot of damage and money in the long run by choosing a professional hair straightener.
One of the best safety precautions that can be found on professional hair straighteners is an automatic shut off timer. This timer is built into the unit and will automatically turn it off after it has been on for so long. This is perfect for those busy mornings when it could be easy to run off and leave your hair styling tool plugged in when you are in a rush to get to work on time. This way you will not have to ever wonder again if you turned off your hair straightener before you left the house.
The old adage you get what you pay for applies to almost everything in life and hair straightening irons are no exception to the rule. These irons are the best hair straightener irons for the job at hand and will not only do it better it will straighten that hair better over many more years than a poorly made hair iron from a drugstore. These hair irons are made with quality materials that are actually proven to not only straighten hair better but help it be healthier despite the styling being done to it. Professional hair straighteners are also easier to use and last much longer.
There are many styling products and shampoos, which tout their ability to help straighten hair, and I am always being asked if these are really effective at doing this. To some degree these products help, but if you truly want straight locks then you will need to straighten them with one of the many professional hair straighteners on the market. These hair irons are the most effective way to remove frizz and curl from even the kinkiest of hair types. Not only do they work extremely well they also can double as a curling iron if you ever decide you want to put a little wavy style into your hair for an evening out.
Styling your hair day in and day out can get hard on your hair and eventually start to create it to be dried out and for split ends to occur. By using higher end hair tools, which are easier on the hair, you can continue to style daily without the fear of damaging your hair beyond repair. Professional hair straighteners which utilize ceramic and titanium is much easier on the hair than the cheap drugstore hair irons which expose your hair to bare metal which does not heat up evenly and can damage your locks in the process of straightening out your hair.
More and more women are using hair straightening irons to get a sleek and shiny head of straight hair. This is a hair tool that you can use everyday to style your hair not just for straight hair but for curls as well without worrying about potentially damaging your hair. Professional hair straighteners are made from high quality materials which will not only style your hair for you, but will also help it retain its own natural moisture but infusing negative ions that will help your hair stay healthy and shiny.
Not long ago if you had curly hair and wanted beautiful smooth straight locks you had to go to a salon and pay a professional to straighten your hair. This was not only time consuming but expensive as well. Now anyone can get the same professional hair straighteners as the pros use and do your own hair in your own home. This means no more scheduling an appointment, which may not be convenient for you, and paying your hard earned money to have gorgeous straight hair. These hair irons only take a little practice to master and with that practice you can begin doing your own hair whenever you want.
Too often I see women who have severely damaged their hair by trying to style it with cheap drugstore hair straightening irons. These hair irons usually use a ceramic coating over cheap metal which sooner than later gets exposed to cause damage to your hair. Professional hair straighteners are solid ceramic and use high quality metals such as titanium to ensure even heating and a lasting product that will not cause any undo damage to your hair while you are straightening it. These professional model straighteners do cost more up front, but the extra care they take of your hair and the fact they will last you longer makes them worth the extra money spent in the beginning.
If you want straight sexy hair and were not born with a smooth mane then you will need to use a hair straightening iron to get the frizz and curl out of your hair and straighten it out. Getting a good quality professional hair straightener will make all the difference in the world in the success you will have straightening your hair. Cheap drugstore hair straighteners are using made with inferior materials, which are no good for your hair, and they will leave it dried and damaged especially with repeated styling.
Professional hair straighteners are made with higher quality materials such as ceramic and tourmaline to ensure your hair will remain healthy and vibrant even when the hair iron is used frequently to remove the curl from your tresses. These materials use ionic technology to help infuse your hair with negative ions, which will help it retain its own natural moisture. This will make your hair more resistant to drying out leaving it to be healthy and shiny. Professional hair irons also include variable temperature controls which allow you the control over how much heat to apply to your hair to straighten it. Those with thicker hair will need a higher heat than those with thin or very dry locks.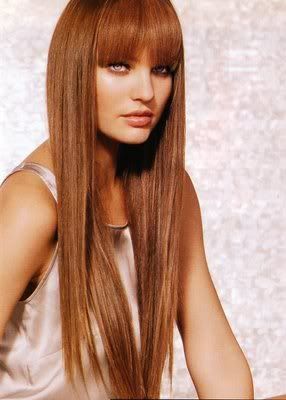 You may keep hearing about Japanese Thermal Hair Straightening and wonder what it is exactly and if it would be a good idea for you to use this method to straighten your hair. The Japanese straightening method uses a combination of chemicals and professional hair straighteners to permanently remove the curl from hair. This of course will only work on the hair that is on the head so as hair grows out that hair will not be straightened. This means that this process will need done about twice a year if you would like to keep this look going.
This process is not one that can be done at home and the cost can easily be $500, so convenience is not a word that describes this chemical treatment. Much like a reverse perm with heat applied by a hair straightening iron included this is not a process you would want to site through often. I personally am not into any chemicals being used on my hair so would rather just spend the time every couple of days to use the hair straightening iron in my bathroom to get my hair sleek and straight.