Audrina Patridge is known as one of the original primary cast members on the MTV reality show The Hills. Her style is feminine and sexy and her hair is no less, usually seen worn long with loose waves or straight and sleek.

How to Get Audrina Patridge Hairstyle -
Wash hair using a volumizing shampoo and conditioner.
Apply an Anti-Frizz Thermal Protecting Spray to damp hair to protect and keep hair smooth and frizz free.
Blow dry hair using a round brush to add volume and smooth hair.
Using a 1 inch curling iron wrap 2 inch sections of hair around the barrel of your curling iron to about ear level, holding for 10 seconds before moving onto the next section. This will create the wavy hairstyle like Audrina Patridge.
When done all sections of your hair apply a small amount of polishing gloss to the palms of your hands and gently smooth it over your hair.
Avoid touching your hair too much in order to keep it smooth and from getting frizzy.
See what Audrina's hairstyles look like on you – Click Here
It appears that the Holidays call for change. Along with Nicole Richie's new brunette hair, Britney Spears and Taylor Swift were spotted with new hairstyles as well this past week.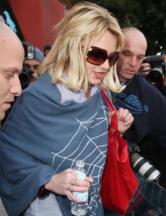 Britney Spears new hair cut is a simple shoulder length hairstyle with layers and bangs. Perhaps it is just this photo, but Britney's new haircut seems to lack excitement. What do you think?
On the other hand, Taylor Swift looks completely different with her new straight hairstyle along with brow skimming bangs. I love it, I think she looks more her age, (she just turned 20 on Sunday, Happy Birthday Taylor!) and the bangs look fabulous on her! Taylor Swift's new straight hairstyle was for her US Weekly photo shoot and this look is easy to achieve with your flat iron. After straightening hair out, apply a polishing gloss for ultra shiny hair like Taylor Swift.
Want to see Taylor Swift's hairstyles on yourself?  Click here to see what you look like wearing any of her styles
Sleek, shiny hair is easy to obtain with the right hair styling products and a professional hair straightener. Follow these simple steps for soft, glossy, touch me strands.
1. Apply an anti frizz thermal protector to damp hair and distribute evenly by combing over hair with a wide tooth comb.
2. Using your blow dryer, with a directional nozzle, blow dry hair sections of hair, keeping the nozzle pointed downwards to keep hair smooth. If you have wavy or curly hair, use a round brush to help smooth out hair as you blow dry. Once hair is dry, go over your hair using the cool shot button to help further smooth out your hair.
3. Clip the top and side sections of your hair up so that you can start with the back sections of your hair.
4. Taking sections 1 inch at a time, using your flat iron, slowly glide the iron down the section of your hair. Going slowly over your hair will not only keep you from going over and over the same section, but this also alows the heat to better penetrate your hair and smooth out locks.
Use the highest heat setting recommeneded for your hair as the higher the heat, the smoother your hair will be. Repeat this step until the back section of hair is done, working your way to the sides and then the top sections of your hair.
5. Once you have straightened all of your hair, take a polishing gloss or shine serum and distribute evenly over all of your hair. Remember, start out with less, as you can always add more, using too much shine serum can cause hair to look oily.
* If you have wavy or curly hair you may want to use a flexile hold hairspray to help lock in your sleek, shiny hairstyle!