Curls are sexy, and if you've been blessed with naturally curly hair, you should appreciate how lucky you are. For those of us with straight hair, it is always nice to try something else out from time to time, and beautiful flowing curls are a nice change from your typical straight style.
When it comes to creating beautiful curls you don't have to commit yourself to a perm that will damage your hair and leave you with a permanent head of curls. After all, you probably want to mix it up a bit. And sure, you could use a head of hot rollers to create your curls. But who wants to walk around with a head full of plastic for hours? If you want an easy and effective way to create beautiful curls, all you need is a professional curling iron.
When I tell you that you need a professional curling iron, I don't mean that you need to spend thousands of dollars on a hair tool. What I mean is you must choose a quality curling iron that will get the job done without damaging your hair. A ceramic curling iron is the best choice for most users. Ceramic is a moisture conducting material that will actually infuse your hair with moisture as it's curling your hair. What this means to you is that your hair won't end up damaged by the heat and it will actually look shiner and healthier than when you started. That's right, using a ceramic curling iron can actually improve the look of your hair.
Don't be fooled by people who tell you that hair tools damage your hair. Those people are probably using inexpensive, low quality tools with metal barrels that will snag, burn and singe hair. And yes, if you use those types of hair tools, they will damage your hair. Choose quality hair tools that will improve the look of your hair.
For even healthier looking curls, look for a curling iron with tourmaline in it. Tourmaline is a naturally occurring element that actually emits negative ions. Those negative ions infuse the hair locking in moisture and sealing each and every hair cuticle, so hair lays flat against the head giving you a beautiful smooth curl. Forget about the frizzies and the broken looking hair that often results from over styling, with a curling iron infused with tourmaline, your hair and curls will never look better.
When you use a curling iron to create your curls, you have so much more control over how you want them to look. Do you want loose flowing curls? Or tight spiral curls? You're in control when it comes to a curling iron unlike a perm or hot rollers where you are at the mercy of the rollers.
Don't be afraid of curling irons, once you use them a few times, it's easy to perfect the exact look that you are going for. They're very easy to use, and the best part about them is that they are affordable and if you want to go back to your straight look tomorrow, you can.
To get curl into otherwise straight hair women have a couple of choices to go with depending on how often they want the look and whether or not they want to subject their hair to chemicals. Curls can be achieved through hair curling irons or via a permanent done at the salon. Perms as they are called will remain in your hair until it grows and the curl is cut from the ends of the hair and involve a long process using chemicals to add these curls. This is good if you want curls for a very long time and do not want to change your look too often.
The other alternative is to get the curl into your hair using a hot curling iron every time you wash and style your hair. Some women feel that this way is more time consuming than the perm and not the best option while others like the freedom this allows. Since the curls are not permanent you can change the degree in which you curl your hair each day or choose not to curl it all and go straight once in awhile. Really one way of curling your hair is not better than the other it is just a matter of personal preference on what you prefer.
So many older ladies get that appointment with the beautician and get that classic perm for older ladies and feel they have the best style for their age group. Nonsense! Older women do not have to get that boring old perm and live with a hairdo that is just no fun. There are plenty of great styles for older women which incorporate wavy locks from 2 inch curling irons as well as even long hair so be daring a work with a stylist to find the hairstyle which compliments your facial appearance as well as your lifestyle and get out there and enjoy life.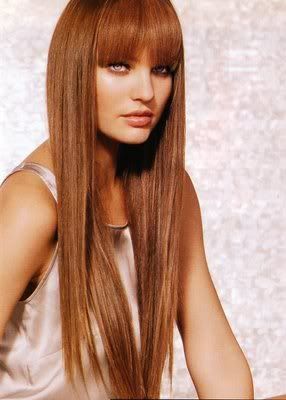 You may keep hearing about Japanese Thermal Hair Straightening and wonder what it is exactly and if it would be a good idea for you to use this method to straighten your hair. The Japanese straightening method uses a combination of chemicals and professional hair straighteners to permanently remove the curl from hair. This of course will only work on the hair that is on the head so as hair grows out that hair will not be straightened. This means that this process will need done about twice a year if you would like to keep this look going.
This process is not one that can be done at home and the cost can easily be $500, so convenience is not a word that describes this chemical treatment. Much like a reverse perm with heat applied by a hair straightening iron included this is not a process you would want to site through often. I personally am not into any chemicals being used on my hair so would rather just spend the time every couple of days to use the hair straightening iron in my bathroom to get my hair sleek and straight.
Here are some tips for various kinds of hair types:
For thin hair always use a volumizer, you should choose products that will specify that it wont weigh your hair down. Wait until your hair is almost dry and blow dry upside down. Do not use your hands to shake your hair while drying, this tends to make hair look frizzy once your done.
Pull your roots out with your fingers or a brush, firmly, hold the blow dryer to the roots for a few seconds, then take the blowdryer away and still holding onto your roots (almost pulling) let your hair cool down before letting go. Do this all over, tugging at your roots and holding hairdryer to them. This will give you volume from the root.
Try coloring your hair, this will give volume, manageability and body to fine thin hair. There are a ton of different colors to choose from and you could always just go with highlights or streaking. (your hair!)
For reviving a perm in between perms try using a curl enhancer.
This look can be achieved by using Aveda curl enhancer, a hair diffuser, ( which is used to blow dry curls that will not seperate them while drying) drying upside down and scrunching.
For thick frizzy, wiry type hair I would suggest using a defrizzer or shiner, a straight iron will also help to flatten, smooth and gives greater control. Bumble & Bumble is just one of many different brands for helping tame frizz.
Although I do not normally suggest buying products from a store I recommend only one if you do and that is Sunsilk. I have said it before and I will say it again, "I have had nothing but good come out of using their products." They have a whole product line for this type of hair, shampoo, conditioner and defrizzers.
Most products from the store are watered down and contain wax. Next time you shampoo your hair put a little baking soda in with it and wash normally. You will feel a huge difference in your hair because you just stripped all of the store bought products out of your hair. But DO NOT USE if you have to go out, you will have what looks like dandruff but is in fact flakes of all the stuff that we call wax coming out of your hair. Do the baking soda method a few times until you do not see any flakes. Unbelievable isn't it?
Salon products are concentrated and are PH balanced for your hair. A normal ph balance is around 5.5.
To keep your hair in the style that you like, you must see your hairdresser regularly. A good haircut must be maintained and I suggest not waiting any longer than 6 weeks between visits. Until next time…Good luck!
Niki