It appears that the Holidays call for change. Along with Nicole Richie's new brunette hair, Britney Spears and Taylor Swift were spotted with new hairstyles as well this past week.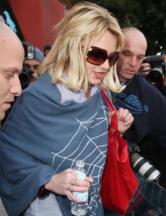 Britney Spears new hair cut is a simple shoulder length hairstyle with layers and bangs. Perhaps it is just this photo, but Britney's new haircut seems to lack excitement. What do you think?
On the other hand, Taylor Swift looks completely different with her new straight hairstyle along with brow skimming bangs. I love it, I think she looks more her age, (she just turned 20 on Sunday, Happy Birthday Taylor!) and the bangs look fabulous on her! Taylor Swift's new straight hairstyle was for her US Weekly photo shoot and this look is easy to achieve with your flat iron. After straightening hair out, apply a polishing gloss for ultra shiny hair like Taylor Swift.
Want to see Taylor Swift's hairstyles on yourself?  Click here to see what you look like wearing any of her styles
Want to know how to get Taylor Swift's curly hairstyle? The following is a simple step by step 'how to' in achieving this curly hairstyle you often see this popular singer wearing.
1. After washing hair, towel dry and apply a styling product such as a curl enhancing mousse or a texture enhancing cream. For the best blow out follow these simple steps on How To Blow Dry Hair but be sure when drying the top sections of your hair (step 6) to create a deep side part and blow dry hair in the direction of the part instead of straight back.
2. The top of Taylor Swifts hairstyle is straight so you only want to curl your hair from just above your ears down to the ends. Using a 1″ curling iron, wrap 1-2 inch sections (alternate for more natural looking curls) around the barrel of your curling iron and hold for 5-10 seconds and then let go. To avoid a dent in your hair do not clamp hair in your curling iron, just wrap the section of hair around the curling iron.
3. Using your fingers, loosen some of the curls to create some waves, as you can see in the photo above of Taylor Swift, her hair is both curls and loose waves.
4. Apply a small amount of shine serum and rub into the palms of your hands, lightly run your hands over your hair or use a shine spray being careful that you don't over do it as too much serum can make hair look oily and go flat.  Spray with a flexible hold hairspray and you're good to go!
Note- If your hair needs more texture and volume at the roots, spray your finger tips with your hairspray and place fingers into your roots and gently rub your fingers back and forth to help lift roots and add some separation and texture.
See what you look like wearing Taylor's hairstyles – Click here