Some households have all girls in them. Some households have only one girl in them. Either way, most households own a hair straightener to style hair with each day. The trendy hairstyle has been known to be popular with girls but some guys even do it if their hair is long enough. What if you are the only girl in your household and you own two or more hair straighteners? Doesn't that seem a little ridiculous?
Many people would beg to differ that owning more than one straightener is odd. It's easy to understand if there were two or three or even four girls in the same household. Each of those girls could have different types of hair (thick, thin, wavy, extremely curly) and each girl may need to use a different straightener. Weird as it may sound, there are households of one girl who owns three hair straighteners. I, myself, am the only daughter left in my house but I own three hair straighteners. Of course I have my favorite flat iron over the others but they all get used just as equally as the other. But is it really necessary to own more than one hair straightener?
More than one straightener in a household of one girl, in my opinion, can be bittersweet. I don't mind owning three at once, as long as there is room to store each of the other two that aren't in use. Some girls don't even use the other straighteners that are in their house; they use the same straightener everyday and let the other(s) lie in the cupboard to collect dust. This is the part that doesn't seem right in my mind. Why own so many yet only use one; you could get money out of the unused ones!
However, one reason some girls may own more than one flat iron is because one straightener may have a feature that the others don't. For example, one of my flat irons has a rounded edged plate that makes it easier to curl hair with a straightener. Some girls like to use straighteners to curl their hair instead of an actual curling iron, so this kind of straightener is great for them. Some irons may have higher heat settings also and can therefore straighten better than others. Variety of plate sizes are also a popular reason for multiple straighteners in one household as well.
Whatever your reason may be for owning more than one straightener in your house, it's not a crime so who cares, carry on! It's more fun for girls to own more than one of something so they can switch up their look everyday. Even if you're the only girl/woman in your household, you can find more than one straightener that will help you accomplish perfect looks every single day.
Some women style their hair everyday, mainly because they feel their hair looks more stylish or put-together when it is straight. To keep hair smooth and beautiful from day to day, lots of women say it's best to use the heat of a straightener everyday. This may seem smart to them but after so many days of using the straightener, they begin to notice a difference in the texture and look of their hair. It is okay to straighten your hair every so often but to avoid heat damage, read the following tips about how NOT to straighten your hair.
If you're going to straighten your hair more than three times a week, you could endanger it. All it takes a little too much heat and your hair will become fried with split ends. One of the worst things you can do when you straighten it is to avoid using any kind of thermal protectant spray. If you go without spritzing your hair thoroughly with a heat protectant, the split end affect will become much more of a problem.
You also should never try to straighten your hair by repeatedly going over the same chunk of hair. You are supposed to split your hair into layers and/or sections when you style it with a straightener because this helps keep all pieces separate and make it easier to straighten without tangling it. After you split it you begin straightening but you must remember that you can't go over the same area more than once. Applying too much heat for too long can seriously damage the ends by breaking them off more and more each time you go over a certain chunk.
Those are two of the main things you should avoid doing while straightening your hair, but there are a few smaller details you should remember. These include things like setting the temperature too high on the flat iron, pulling the iron straight down through the hair, and not using frizz serum after styling. Remembering these great tips can be a helpful reminder as to why we should be ever so careful when we style our hair.
Winter time is the best time for formal events. Long and sleek dresses, beautiful diamond jewelry, and don't forget the big hair. Most women stick with lustrous updo's for formal events, which can require lots and lots of pins and hairspray. Some stylists even use curlers to give hair volume and bounce. What some people don't know, though, is that a hair straightener can even help put things together when styling your hair in an updo.
Although it won't help give much volume, you can use a hair straightener as a tool to help weave through your strands and get the perfect silky start before you perform an updo with your hair. Some straighteners are great for this because they remove some frizz and smooth over curls that may be winding through your hair. The best part about using a straightener to start, however, is that it gives your hair a fresh look that will last all through the night. Most women who have a shorter length of bangs use a flat iron to style after their hair is already in the updo, to give the hair a classier look. If a straightener can do that on bangs, imagine the kind of work it can perform on longer strands of hair!
To begin, spritz a root lifter and a small amount of heat protectant spray. You won't need too much of the heat protectant spray because you won't be using your straightener to completely go over your whole head of hair. The key to this process is to remember, you aren't straightening all of your hair, you're only going over a few areas to give a good polished look before beginning an updo. After spraying the product into your hair, you may want to finger through and find pieces that need to be straightened. Whether they look dry or curly, your best bet is to run the straightener through so your updo won't look sloppy. The goal is to create a sexy hairstyle, not a bird's nest on top of your head.
To get the best look in your strands, run your straightener through the hair at a diagonal angle. Most women press the plates through their hair at a horizontal angle, which will create a dented look in the hair. The dents may not be quite as evident in an updo since all of the hair will be pressed back, but it's still a good idea to get a smoother look. As you begin straightening more and more, you may notice that other pieces of hair look sloppy compared the newly straightened pieces. This isn't a big deal, as the straightened pieces will cover up the not so straight strands in the end. You may run through the others but it won't make too much of a difference in the final look.
After you have used the straightener enough and have smoothed through the hair for elegance, you may begin to pin it back into your updo. As some clients of stylists have noticed, pieces that hang out of the updo look a bit flirtier if they are curly. However, since it is the season for sexy and sleek styled dresses, your hair should match your formal outfit by being just as soft and smooth as the dress you wear. The final look of an updo looks very polished and professional when it is straight.
A flat iron is an extremely versatile hair tool as it can straighten, curl and flip hair as well as be used to add volume to your hair.
Follow these simple steps to Add Volume to Hair Using your Flat Iron;
1. Section hair so that you can work from the back bottom layers first and then work your way up to the top and front sections of your hair.
2. Taking a section of hair about 1-2 inches wide, clamp your flat iron right at the root of your hair.
3. With your flat iron, pull the section straight up as you glide the iron over the section of hair. Repeat over all of your hair.
4. Once you reach the top of your head, pull the section of hair with your flat iron into the opposite direction in which you want your hair to fall and then flip it back over.
5. Spray hair with a light mist of hairspray to help hold style.
Recommended Hairstyling Products to help add volume to hair-
Sexy Hair Big Volume Shampoo & Conditioner
Textureline Hot Style Hot Volume Foam
Redken Guts 10 Volume Spray Foam
2010 hairstyle trends include lots of volume, 50′s inspired styles, braids of all sorts as well as sleek ponytails.
The bob hairstyle is still a hot hairstyle trend for 2010 however this year it gets a little edgier also, shoulder length bobs are making a hit.
Smooth, sleek hair of all lengths will also be seen a lot in 2010 and creating smooth, shiny strands is simple using a flat iron.
Create soft, smooth waves using your curling iron and this year make sure you have a set of hot rollers on hand to pump up the volume in your hair and add movement and texture.
For inspiration you can check out 2010 Celebrity Hairstyles for the latest in hair trends.
Gossip Girl Hilary Duff's long, straight, layered hairstyle is an easy to copy hairstyle.
What you need-
Hair Dryer
Hair Straightening Iron
Texturizing Balm
Get the Look –
Apply a heat protectant and blow dry hair using a round hair brush to help straighten and add volume to your hair.Blow dry the front sections or bangs forward.
Part the front section or bangs off center.
Section and pin hair up so that you can start from the back, bottom sections of your hair. Using your flat iron, straighten 1 inch sections at a time. Glide the flat iron down the section of hair slowly for the best straightening results. Work from the back, bottom towards the front and top sections of your hair.
Once you have finished straightening your hair rub a small amount of texturizing balm in your palms and apply to strands of your hair to create a 'piecey' and texturized look.
See what you look like with any of Hilary's hairstyles – Click here
It appears that the Holidays call for change. Along with Nicole Richie's new brunette hair, Britney Spears and Taylor Swift were spotted with new hairstyles as well this past week.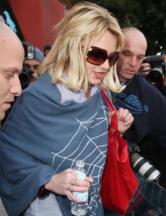 Britney Spears new hair cut is a simple shoulder length hairstyle with layers and bangs. Perhaps it is just this photo, but Britney's new haircut seems to lack excitement. What do you think?
On the other hand, Taylor Swift looks completely different with her new straight hairstyle along with brow skimming bangs. I love it, I think she looks more her age, (she just turned 20 on Sunday, Happy Birthday Taylor!) and the bangs look fabulous on her! Taylor Swift's new straight hairstyle was for her US Weekly photo shoot and this look is easy to achieve with your flat iron. After straightening hair out, apply a polishing gloss for ultra shiny hair like Taylor Swift.
Want to see Taylor Swift's hairstyles on yourself?  Click here to see what you look like wearing any of her styles
If you caught the 2009 VMA's you may have noticed that the popular hairstyle trends this year were spiral curls, loose waves, half up do's and retro inspired hairstyles. All of these are hot Hairstyles for Fall 2009 and can easily be taken from red carpet to everyday.


Taylor Swift's Hairstyle is a simple updo that is perfect for a day look or a night out. Get the soft face framing curls by using a 1″ curling iron and using a flexible hold hairspray to keep them in place.

To get a sleek pony tail like Kristin Cavallari, part hair off center and straighten using a flat iron for a sleek, smooth look. Secure hair using an elastic just above the nape of your neck. Take a section of hair from the ponytail and wrap it around the elastic and secure with a bobby pin underneath the pony tail to hide the elastic band.

Celebs like Katy Perry, Alicia Keys and Madonna opted for the partial updo with the font sections of their hair pulled away from their faces. To get this 2009 VMA hairstyle, simply take the front section of your hair, either a small section like Katy Perry or a larger section like Madonna (pictured below) and pull back from face. Secure section of hair with bobby pins, but don't pull it back too tight, notice they have some volume, and keep in place with hairspray. For Madonna's hairstyle, you may want to tease the section of hair a little underneath to create more volume.
Growing up my older brother had really curly hair, which he used to spend what seemed like hours in front of the mirror trying to tame. His only hairstyle choices were extremely short so the curl would be cut out of his hair or something that involved curl. He just like many men born with curly hair would have done anything to get straight hair since to many of these guys curls are a girly thing they do not like on their own heads.
Of course many men do not think of it but they too can use a flat iron on their hair to get rid of their naturally curly hair and get those straight hairstyles they see on the men in Hollywood that the ladies love. Some guys might be reluctant to try this depending on their personality since to many this kind of grooming is just too feminine. But many of the companies that make hair irons try and actually cater to guys by creating models that they would not mind using as much. The popular pink hair irons that are all the rage with the women just would not work in a guy's bathroom so you can get things such as a camo design from Chi flat irons that a guy would not mind using at all.
Since many men have short hair it is important that they use a flat iron that has a small plate size so that it is easier to run the hair through the iron to get the hair straight. And just like with women it is essential that men use a quality professional straightener that will not damage their hair and leave it dried out and unhealthy. After all the whole point is to look good for the ladies and you want them to still be able to run their fingers through your hair.