2010 hairstyle trends include lots of volume, 50′s inspired styles, braids of all sorts as well as sleek ponytails.
The bob hairstyle is still a hot hairstyle trend for 2010 however this year it gets a little edgier also, shoulder length bobs are making a hit.
Smooth, sleek hair of all lengths will also be seen a lot in 2010 and creating smooth, shiny strands is simple using a flat iron.
Create soft, smooth waves using your curling iron and this year make sure you have a set of hot rollers on hand to pump up the volume in your hair and add movement and texture.
For inspiration you can check out 2010 Celebrity Hairstyles for the latest in hair trends.
It appears that the Holidays call for change. Along with Nicole Richie's new brunette hair, Britney Spears and Taylor Swift were spotted with new hairstyles as well this past week.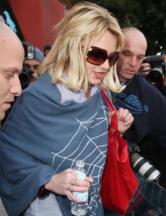 Britney Spears new hair cut is a simple shoulder length hairstyle with layers and bangs. Perhaps it is just this photo, but Britney's new haircut seems to lack excitement. What do you think?
On the other hand, Taylor Swift looks completely different with her new straight hairstyle along with brow skimming bangs. I love it, I think she looks more her age, (she just turned 20 on Sunday, Happy Birthday Taylor!) and the bangs look fabulous on her! Taylor Swift's new straight hairstyle was for her US Weekly photo shoot and this look is easy to achieve with your flat iron. After straightening hair out, apply a polishing gloss for ultra shiny hair like Taylor Swift.
Want to see Taylor Swift's hairstyles on yourself?  Click here to see what you look like wearing any of her styles
It's called the "bed head", Jennifer Aniston, Kate Moss and Gisele are wearing it. The messy but sexy tousled hair, has to be past the shoulders to be effective though. For this look, blow dry upside down, use a hair straightener on only some of it and use it quickly, just sliding down any section here and there. Then use a large barreled curling iron and curl some of the sections you left out hair straightening. Use it fast and not in any kind of order.
The bob: Katie Holmes, Patricia Arquette and Victoria Beckham are all sporting them. A fresh cut is the fastest way to healthier hair! The look is easy to get with a light blow-dry and a hair straightener, you can either straighten the bob flat or flip sides up or in.
Then there's the French cut bangs. Get your hair styled any way you like and let your stylist go heavy on your bangs. Leave them long enough and you can sweep them back when you feel they are too heavy in hot weather. Use a straightener for the bangs, or the whole head of hair. Or blow dry upside down for a slight scrunchy curl, still hair straightening the bangs.
Till next time, Good Luck,
Niki
With Spring comes change! Time to update the winter hairstyle and look fresh and vibrant for Spring 2008!
Popular hairstyles for Spring 2008 are feminine and lady like with tailored bob's, short blunt cuts, long natural styles and unique up-do's. Hot hair colors for Spring 2008 are natural shades or the complete opposite and bold and colorful!
Either way, healthy, shiny hair is the look this spring with any cut and color.
The bob hair cut comes in many lengths and can be layered and textured. For a sleek sophisticated bob like the pictures above use your flat iron to achieve this look.
Weather you stay long or go short with your hair this spring, another hot look for spring 2008 is blunt bangs.
Again, using a hair straightener, this look is simple to achieve!
UpDo Hairstyles-
Short & Blunt Hairstyles -
For the younger girls, the Emo Hairstyle is extremely popular. This look is sassy, fun and can be done in many different ways to show off your personality!
Emo Hairstyle Pictures -