2010 hairstyle trends include lots of volume, 50′s inspired styles, braids of all sorts as well as sleek ponytails.
The bob hairstyle is still a hot hairstyle trend for 2010 however this year it gets a little edgier also, shoulder length bobs are making a hit.
Smooth, sleek hair of all lengths will also be seen a lot in 2010 and creating smooth, shiny strands is simple using a flat iron.
Create soft, smooth waves using your curling iron and this year make sure you have a set of hot rollers on hand to pump up the volume in your hair and add movement and texture.
For inspiration you can check out 2010 Celebrity Hairstyles for the latest in hair trends.
Gossip Girl Hilary Duff's long, straight, layered hairstyle is an easy to copy hairstyle.
What you need-
Hair Dryer
Hair Straightening Iron
Texturizing Balm
Get the Look –
Apply a heat protectant and blow dry hair using a round hair brush to help straighten and add volume to your hair.Blow dry the front sections or bangs forward.
Part the front section or bangs off center.
Section and pin hair up so that you can start from the back, bottom sections of your hair. Using your flat iron, straighten 1 inch sections at a time. Glide the flat iron down the section of hair slowly for the best straightening results. Work from the back, bottom towards the front and top sections of your hair.
Once you have finished straightening your hair rub a small amount of texturizing balm in your palms and apply to strands of your hair to create a 'piecey' and texturized look.
See what you look like with any of Hilary's hairstyles – Click here
Winter 2009 and Spring 2010 hairstyles call for volume and body and with the right hair tools and hair styling products, adding volume to hair is easy.
The Best Tools for Adding Volume to Hair
A Hair Dryer and Round Styling Brush - Use the large round hair brush to lift hair up and away from your scalp while drying your hair with your blow dryer. Check out our How To video, Round Brush Blow Dry for Volume and Straight Hairstyle.
Hair Curlers – Using large hair curlers can help add volume, bounce and movement to hair.
Hair Styling Products for Adding Volume to Hair -
Volumizing Shampoo and Conditioner are a great choice to help add volume to flat, lifeless hair.
Volumizing Hair Gel and Mousse are also a great way to add volume to hair as well as help shape and hold your desired hairstyle.
It appears that the Holidays call for change. Along with Nicole Richie's new brunette hair, Britney Spears and Taylor Swift were spotted with new hairstyles as well this past week.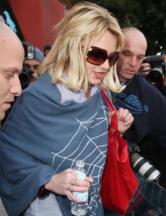 Britney Spears new hair cut is a simple shoulder length hairstyle with layers and bangs. Perhaps it is just this photo, but Britney's new haircut seems to lack excitement. What do you think?
On the other hand, Taylor Swift looks completely different with her new straight hairstyle along with brow skimming bangs. I love it, I think she looks more her age, (she just turned 20 on Sunday, Happy Birthday Taylor!) and the bangs look fabulous on her! Taylor Swift's new straight hairstyle was for her US Weekly photo shoot and this look is easy to achieve with your flat iron. After straightening hair out, apply a polishing gloss for ultra shiny hair like Taylor Swift.
Want to see Taylor Swift's hairstyles on yourself?  Click here to see what you look like wearing any of her styles
Nicole Richie, known for her signature blond hair, has gone brunette. What do you think?
Personally, I like it and think it looks good on her. Brunette is a great shade for winter and I like that Nicole Richie's new hair color looks shiny and healthy, I think it compliments her nicely. However, I have never been a big fan of the 'bangs in the eyes' look and think she could trim her bangs a tiny bit.
"OH! & P.S. I went brunette. I feel smarter already."… … says Nicole on Twitter.
Known as Blair Waldorf on the hit series Gossip Girl, Leighton Meester has now branched off into music. Somebody to Love has made a pretty big impact and Leighton Meester is looking pretty glamorous with her long, loose curls and bright red lipstick.
How to Get Leighton Meester Somebody To Love Hairstyle -
After washing hair, apply a volumizing mousse and blow dry with head flipped over to help boost volume to your hair.
Part hair slightly off center.
Using a large barreled curling iron, wrap bottom sections of hair around the barrel, hold for 5 seconds and then release.
Shape curls using you fingers and spray hair with a lightweight hairspray.
Kayla Ewell is known as Vicki, the rebel, on The Vampire Diaries as well as for her long, beautiful curls! Her hair is naturally straight with a bit of a wave to it, so how does Kayla get her gorgeous curls? Simple! Follow these steps to get this Kayla Ewell curly hairstyle.
Apply a volumizing hair product to damp strands, flip head over and blow dry.
Starting at the middle of your hair (just above your ears) wrap your hair around a curling iron to create soft spirals.
Using a large paddle hair brush, comb through strands to create uniform body throughout your hair.
Spray with flexible hold hairspray and your done!
Be sure to check out My Hair Styling Tools on YouTube for more great Videos!